What if all the gas in LA suddenly turned into vinegar?
Carmageddon doesn't begin to describe it.

Debut science thriller novel by Amy Rogers

PETROPLAGUE

From Paul McEuen, author of international bestseller Spiral:
"Petroplague is a terrific thriller debut and Amy Rogers really knows her science. From a killer premise—scientists create a bacterium that stops the industrial world in its tracks—Petroplague ratchets up the tension and danger with every chapter. The tense, tight plot and interesting characters kept me reading late into the night ... Amy Rogers is one to watch—I can't wait for her next book."

From ThrillersRockTwitter:
"...top five on my best of 2011 list."

From Norb Vonnegut, author of Gods of Greenwich:
"Amy Rogers is the crisp, haunting new voice of science thrillers. If you think global warming is scary, wait till you read Petroplague."
Read more critical acclaim for Petroplague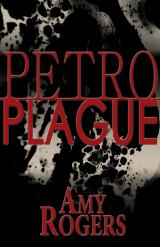 Christina González expected her research to change the world.
But not like this.
UCLA graduate student Christina Gonzalez wanted to use biotechnology to free America from its dependence on Middle Eastern oil. Instead, an act of eco-terrorism unleashes her genetically-modified bacteria into the fuel supply of Los Angeles, making petroleum useless.
With the city paralyzed and slipping toward anarchy, Christina must find a way to rein in the microscopic monster she created. But not everyone wants to cure the petroplague—and some will do whatever it takes to spread it.
From the La Brea Tar Pits to university laboratories to the wilds of the Angeles National Forest, Christina and her cousin River struggle against enemies seen and unseen to stop the infection before it's too late.
Read the first two chapters of PETROPLAGUE free!
View
PETROPLAGUE
trailer
PETROPLAGUE
is published by Diversion Books (NY)
in all digital formats. Ebook versions available wherever ebooks are sold.
Softcovers and hardcovers now on sale
at amazon and bn.com
Discounted
paper copies available at
AuthorHouse.com
or
contact the author
for personally signed paperbacks,
shipped to you for only $15.
amazon
and
amazon.uk
Barnes & Noble (bn.com)
iTunes
Smashwords
(available in all file formats: mobi for Kindle; epub for Nook, Kobo, and Sony; HTML for online viewing; pdf; and RTF to read in a word processor)
Get your ebook personalized by the author!
Go to
Kindlegraph.com
and log in using a Twitter account.